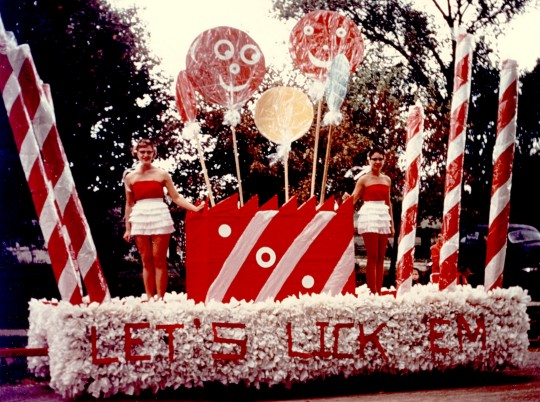 I really dislike Homecoming. We never had it in high school. We didn't have a football team. When I went back to my high school they created a "Spirit Week" to fill the void, but so not the same. When I came to teach at a high school with a football team and with a homecoming week, I was almost giddy. Last year I was deprived of the pleasure. I had to help the 6-8 (we are a PreK-12 school) with their middle school olympics. I was grumpy. I wanted to participate. I wanted to play tug-o-war and be at the powderpuff game. I sulked. But, I will admit I had SO much fun with the olympics, especially since my team of 8th graders were as cut-throat competitive and WE WON. That breakfast was delicious! Mmm Mmm good!
This year, I am with the high school kids and I am MISERABLE! Even though I taught HS last year, this year I feel as though I am really pulling teeth. The activities have been a zoo. My juniors have a quiz today and they BEGGGGGGGGEDDD me to let them come in early and take it. They wandered in anywhere from 10-30 minutes after we agreed on a time. (which is really frustrating since it is a BLUE shift and I have to get everyone up, moving and out the door by myself.) Unfortunately, I have to get my kids to the lower campus. Sorry. Now you'll have to make it up on your time. Hate to be
that
teacher, I can't always be the one everyone loves. Ah well. Somehow I will find a way to go on.
So, now the principal is babysitting my study hall so I can fly home over study hall and my lunch hour and let the pups out. 6am-10pm is absolutely inhumane. Thank the Lord, I have a wonderful administrator. I have to pick up the 2 little muppets from their picnic at 1:30pm, meet the girl whose dad is storing the float. Have her follow me to drop off my car at the football field. Go pick up the juniors' float that I am somehow driving. Get it ready for the parade with my muppets in the car with me. Do the parade, do the tailgate, do the game, get home, let the pups out again, put my exhausted muppets to bed and somehow find a way to unwind. Just in time to get ready to do it over again tomorrow. I mean what is homecoming without a dance? And what is a dance without everyone's favorite chaperone?