Now, I know I have been critical of the traditions and rituals when it comes to cubs. The flour and water seems so silly to me. Makes no sense and perhaps, it simply never will. I guess that is okay with me. I don't know if "
E2
on the
Blue
" club has a password or a secret knock. I don't know if they shared it with J, or not, yet. But he has seen the inside of the clubhouse now.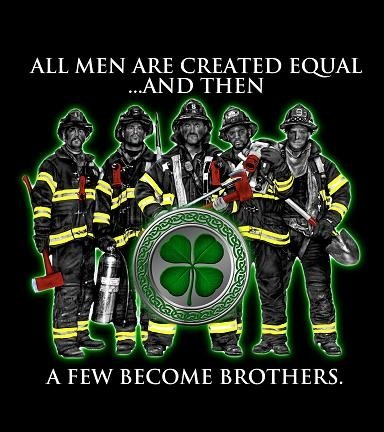 One of the guys has taken J under his wing, a bit, throughout this whole process. Which is rather ironic - from the outside looking in, as he is probably the most outwardly immature guy on the crew! :D He, too has a heart of gold, but unlike J, his mouth has NO filter. What he thinks, he says. At the Falcon's game it made me laugh, but his wife cringe. Anyway, J's personal time - to study and workout, doesn't begin until after popcorn is made and the other guys are settled in to their recliners - 8/9pm. He is not a 21 year-old spring chick and does not seem to find a way to get to both. So, one of the guys asked the Lt. if my FF could study in the afternoon and workout when they workout. What an awesome gesture!
We are going out on St. Paddy's Day and now I have a crew of FFs to hangout with. We got invited to go along with them. The cub on the truck, no one has done anything for. Even at the football party, you could see he was on the outside. J could call everyone by their first name, the other cub was not afforded such luxury. I feel bad for him, but at the same time, I am so glad to see that the work J has put into this has been recognized. J has a heart of gold and a work ethic to match. He knows when to keep his mouth shut (better than I do!) and when/how to speak up. I am so happy for my husband. He is becoming one of the guys. Now, I can breathe a little deeper. He is one of them and they will do whatever is in their power, no matter what, to make sure he comes home to me. For that, I will forever be grateful.
And he is happy. Is there anything else I could ask for?